India's First Jingle Hand Bell Music Concert 2013
This first hand bell music concert in India was sponsored by Zen-On Musical instrument and Nichi Clinister ; alcohol-free disinfectant technology. The programme had four team playing totally seven songs and was compered by Dr SP Preethy Sp.
Beloved Singers Team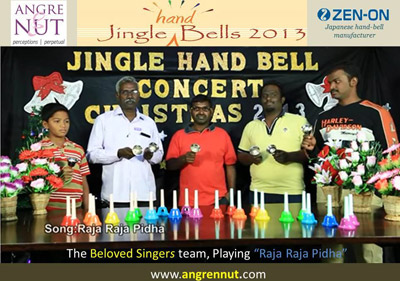 The "Beloved singers" from Dharmapuri trained by eminent ophthalmologist and corneal surgeon Dr Parikumar played "Rara raja pidha".
AIET Bells Team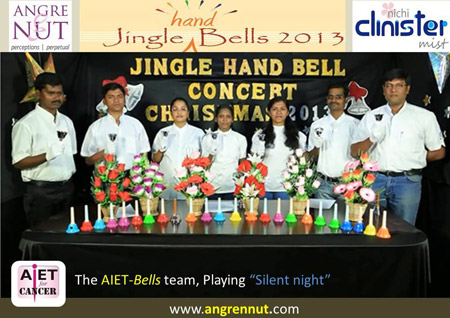 The "AIET-bells" team played Silent Night to celebrate Christmas and "What a child is this" was the second number played by the AIET bells team which consists of dentists, cell biologists and data specialists working on cell based immunotherapy for cancer.
Mighty Grace Team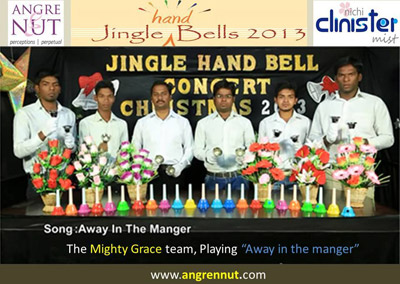 The Calvary Evangelical Youth fellowship team named "Mighty grace" played Away in the manger. Mighty grace team chose to play "Amazing grace" as their second song.
Mogappair Christian Evangelical Youth Fellowship (MCEYF) Team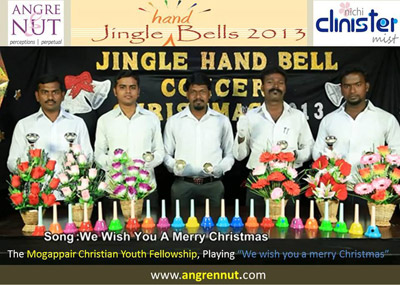 Mogappair Christian Evangelical Youth Fellowship (MCEYF) team played We wish you a merry Christmas. To conclude with the MCEYF team recited Hallelujah!
Clinister can even destroy Avian influenza and that too without causing any adverse reaction to humans as its a biosimilar close the physiological secretion by the skin after an injury.

Zen-On is one of the oldest schools and manufacturing institutes of all kinds of musical instruments in Japan. Their hand bells have been adjudged to be the best in terms of sound quality and their long life

This Indias first hand bell concert was conceptualized by Angre & Nut and aired on the 29th December 2013 in Sathiyam TV from their broadcasting station in Chennai, India.

You too can be a part of your own hand bell music team; in your school or college, residential colony or work place! Please visit our website www.angrennut.com for more details or write to us to angrennut@crayawns.com

Thanks to Mr Samson Paul J Mr David Premkumar and Mr Wesly Kumar for their effort, time and skills.
You can view full programme on the following link in you tube:
http://www.youtube.com/watch?v=65aGjTu8iFo&feature=youtu.be